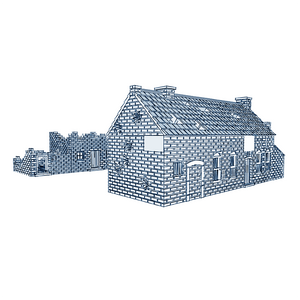 La Belle Alliance
The Inn at the center of the French lines at Waterloo, and the site of the meeting between the Duke of Wellington and Field Marshall Blucher after their victory.
This two building .stl 3D rendering is scaled for 15mm and comes ready to print. In keeping with our belief that terrain should be above all else usable this model has been sized so that standard base sizes to fit inside, with a removable roof, and is tall enough to not crush the bayonets of marching troops.
The Inn is based on the watercolours by Denis Dighton (1792-1827), purchased by George IV (when Prince Regent) in August of 1815 and now held in the Royal Collection: RCIN 915007 & RCIN 915013. While the ruins at the rear are inspired by the Oil Painting of Jean-Baptiste de Roy (1759-1839) dated 1813 (clearly an error) and likewise held in the Royal Collection: RCIN 406566.
For other scales, I suggest the following, though you may prefer to experiment to ensure the model "looks right" on your tabletop: